Holy Redeemer

High School




Class Of 1969
Mike Khoury, CEO of Detroit Cristo Rey announced that the graduating class of 2016 has a 100% acceptance rate for this year's graduating seniors. This is an incredible accomplishment. Please keep this in mind when we request your donation to cover the cost of tuition for a Cristo Rey student. We achieved that goal last year through your generosity. The Class of '69 has some incredibly generous members. Proves once again that the Class of '69 rocks! http://eepurl.com/bOkR5T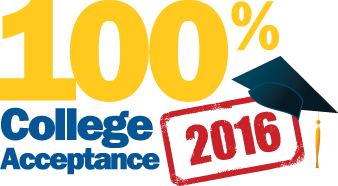 ---
SCHOLARSHIP NEWS
RECIPIENT SELECTED
Mike Khoury, Director at Detroit Cristo Rey shared information about the student who received the $2,500 donated by our class for tuition for the 2015-2016 school year. Here is what Mike wrote:
"Aron lives in SW Detroit with his mom, dad and younger brother. He attended grade school at Holy Redeemer (as many of your classmates may have). He had good grades at Holy Redeemer and was very impressive in work training – 100% attendance, good participation in the sessions. He has been assigned to work at Detroit Salt Company. The staff is very excited about his future at Detroit Cristo Rey and grateful that the tuition will not be a burden to his family."
The Class of '69 should be proud of their efforts to make a difference in a child's life.
ENJOY THIS VIDEO...BLAST FROM THE PAST!
https://video-ord1-1.xx.fbcdn.net/hvideo-xft1/v/l/t42.1790-2/11730196_904548696279284_795628837_n.mp4?efg=eyJybHIiOjYyNiwicmxhIjoxNDQwfQ%3D%3D&rl=626&vabr=348&oh=4ea25e7d4729ca4127b9623245fac2c8&oe=55ADC7E0
HOLY REDEEMER CLASS OF '69 SCHOLARSHIP FUND
FOR DETROIT CRISTO REY
LET'S GET FIRED UP!
We began an effort to raise a minimum of $2,500 for a Detroit Cristo Rey student for the 2015-2016 school year. We started this effort on March 5th with an email to classmates.
So far, 18 classmates have raised $2,644! HOWEVER, IT TAKES A LOT MORE THAN $2,500 PER STUDENT PER YEAR. PLEASE DON'T STOP DONATING!
The following Class of '69 grads have generously donated so far:
Karen (Piotrowski) and Patrick McNamara

Edward McCarthy

John Mifsud

Barbara Lukasiewicz

John and Debra Pavlak

Ilene Soroka MacDonald

Therese Henri Thorn

Ken Seguin

John Polanski

Anonymous (a very generous "anonymous")

Nancy Cini Podczervinski

Phyllis St. Amand Rini

Rick Nowakowski

Karen Hammon Gebhardt

Mari (Duffy) and Bill Barlow

Tony Duarte

Al Norkunas has generously provided a check to Cristo Rey to purchase home and away uniforms for the boys' soccer team! Al is challenging everyone to donate to the scholarship fund. WHO'S UP TO THE CHALLENGE???
We need YOU! It costs far more than $2,500 to educate one student for one year at Cristo Rey (opened in 2008 in our Holy Redeemer High School building under the direction of the Basilian Fathers and Immaculate Heart of Mary Sisters). The students work one day a week at a job placement. Dollars earned go towards their education. Additionally, many other philanthropic efforts are in place to make it financially possible for students to attend.
Let's set the tone for other Holy Redeemer classes by achieving our goal early and generously. You can find all details below. You can easily donate online (MARK YOUR DONATION "CLASS of 1969") at http://www.detroitcristorey.org/ (Click "GIVE NOW").
"The greatest use of life is to spend it for something that will outlast it." - William James
_________________
Holy Redeemer Class of '69
Scholarship Fund
at Detroit Cristo Rey
We are pleased to announce that the Holy Redeemer Class of '69 Scholarship Fund has been established at Detroit Cristo Rey High School and we are ready to launch our first annual campaign!
Our goal is to raise at least $2,500 each year to provide scholarships for students who have distinguished themselves through scholastic achievement, job performance and extracurricular activity. Financial need is a key consideration.
Detroit Cristo Rey High School was founded in 2008 and located in the former Holy Redeemer High School building. The high school is sponsored by the Basilian Fathers and the Sisters, Servants of the Immaculate Heart of Mary. Identifying themselves as "The School that works", this coed Catholic high school provides high-quality college preparatory education to students from economically disadvantaged families in the Metropolitan Detroit area. All students at Detroit Cristo Rey participate in a Corporate Work Study Program through which they finance the majority of the cost of their education while gaining real work experience and self-confidence to be successful in higher education, in the workplace and, in life.
We will receive periodic fundraising updates as we strive to achieve our goal by June 30, 2015. Over the summer, a committee of Detroit Cristo Rey leadership team members, faculty and staff will determine eligible candidates and award the scholarships in time for the beginning of the school year in September. The Class of '69 Scholarship award winners of 2015 will be showcased on our website.
There are several ways to give and all donors will receive acknowledgment letters from Detroit Cristo Rey for tax purposes.
Checks payable to Detroit Cristo Rey High School for the benefit of Holy Redeemer Class of '69 Scholarship Fund may be mailed to Detroit Cristo Rey, 5679 Vernor Highway, Detroit, MI 48209.
Secure online donations using a credit/debit card or PayPal may be made at www.detroitcristorey.org. Select "Support", "Donate Now" and indicate that your gift is for the "Holy Redeemer Class of '69 Scholarship Fund"
Gifts of appreciated securities or IRA Charitable Rollover donations can be made by calling #313.843.2747 and asking for Lori Kuhn, Chief Financial Officer or Naomi Howrani, Director of Development.
-100% of graduating seniors since the first graduating class of 2012 have been accepted to at least one college or university!
-The Campus Ministry offers a unique opportunity for a student to shape their ambitions in the context of faith.
-Student athletes participate in basketball, cross-country, track & field, soccer and volleyball.
-Extracurricular activities include student government, as well as a debate team, science club and yearbook club, just to name a few.
Please give the gift of an exceptional educational opportunity for a student that might not otherwise ever have the chance!
No gift is too big or too small!
If you know a classmate that is not on the Holy Redeemer High School Class of '69 Website please contact and encourage them to give!
Finally, we hope that our efforts will serve as a challenge to other Holy Redeemer Classes to join us in supporting Detroit Cristo Rey student excellence!
Thanks to Therese Henri Thorn, Ken Seguin, John Pavlak and Rick Nowakowski for their efforts in this endeavor.
"The greatest use of life is to spend it for something that will outlast it." ~ William James

Holy Redeemer Memorabilia Goldmine!
Kathy Suchyta (class of '66 and sister of Greg S
uchyta) has made a website of Holy Redeemer memorabilia. Many items have been taken from school newspapers, yearbooks, etc. These were items she salvaged when the school closed. Thank you, Kathy!
tmwoz.com/holyredeemerhighschool/Homepage.html
Stay tuned!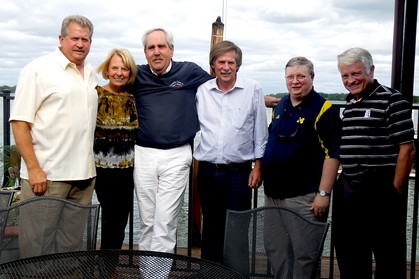 Despite the meager turnout, we had a great time reminiscing about the Big RE!
Left to right: Algirdas Norkunas, Ilene Soroka MacDonald, John Pavlak, Dan Campbell, Dennis Glasgow and Dennis' friend, Fr. Jack Quinlan