Motown Museum Party
We had a great time at the Motown Museum Friday evening. If you haven't had a chance to visit it on West Grand Boulevard, put it on your list of things to do.
We ended our tour of the museum in the "recording studio" (garage) of all the Motown greats. The tour guide had us dancing the Temptations walk and had us singing "My Girl". If we were allowed to take pictures I would have captured some great images.
After the tour, we headed over to the Traffic Jam. Those taking the tour and having dinner were (see below pic):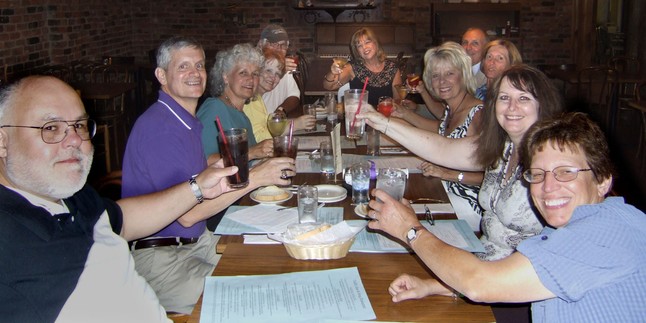 Left to right: John Kirvale, Ken Seguin, Linda Jednyak Sandoval, Patrice Gavin Katroscik, Ed Katroscik, Karen Schulte Ladd, Larry Vidovic, Diane Wawrzyniec Vidovic, Ilene Soroka MacDonald, Sharon Seguin, Sheila Kirvale.